Email forms not working
Visitors to my website could not email forms when they clicked on the Send button. I had thought I had set up  Contact Form 7 properly. This was a big problem. My Contact Us pages were useless until I discover several tricks of the trade.
Read the section below to solve this problem.
How to configure Contact Form 7 for your WordPress site
The domain name for this website is WordPressPeter.com. To fix your own email forms problem, substitute your domain name for my domain name in the examples.
Edit one of your WordPress pages. While you are setting up your form, click on the Mail tab. In the From box, you will see wordpress@ in front of your domain name. You will have to go into your web host website and
change the wordpress to something such as your first name.
Notice that my domain name is wordpresspeter.com. I went into my webhost (LiquidNet Ltd Hosting) and created an email address called peter@wordpresspeter.com. It forwards email to my most common email address.
A form email may not forward because there are conflicts of source code on the page. Once one of my email forms did not send because I had a PayPal buttons on the same page as the form. When a user filed out the form and clicked Send, a webpage with a PayPal ad would show up. When I removed the PayPal buttons, my form emailed perfectly.
There can be a conflict with a form if the

WordPress version, plugins or themes have not been updated

. To solve this problem, go to Dashboard > Updates on you page editing screen. Follow the instructions about updating version, plugins & themes.
Transcript of the email forms video 
If you have the Contact Form 7 plugin installed, the word Contact will show up in the black sidebar of your WordPress editor.
Click on it and then Add New
Click on the Mail Tab
Assuming that you have created an email address that has your domain name after the at sign (@), change the From box accordingly.
Give you form a distinctive name.
Click Save.
Select form shortcode and press Cmd C to copy it into your clipboard.
Go to the page that requires the form.
Cmd V to copy the shortcode.
Update & view page.
Fill out the form and send.
The form showed up in your email. However, it was in the Junk folder. Making it show up in the in box is a subject of a future video.
Same message, different words
Sometimes when you are confused, read the same message using different words. The message below repeats the message above in different words. It tells how to add a contact form to a page.
1.

Add new WordPress plugin
Go into your website in edit view. In the black column on the left-hand side, go down to Plugins and click Add New.
In the search box enter Contact Form 7. When it shows up, click on Install Now and the Activate.
This plugin will now be activated for any of the web pages in your website. You will need to add a shortcode on any page that requires a contact form.
2.

Add Contact Form 1 shortcode to page
Look at that black column on the left-hand side again. There is a new word, Contact. Click it and then click on Contact Forms. Click on Contact Form 1.
At the top of your new page you will find a shortcode. Click within the blue bar and then Cmd C to copy it into your
clipboard.
3.

Paste code into website
Go to the point to which you wish to insert your form. Cmd V to paste the code. Click Save.
4.

Add your email address
a. Click Contact in the black left-hand column again.
b. Click the Mail tab.
c. In the To box, add the email address to which the form should be sent. That will likely be your own email address.
d. Click the blue Save button.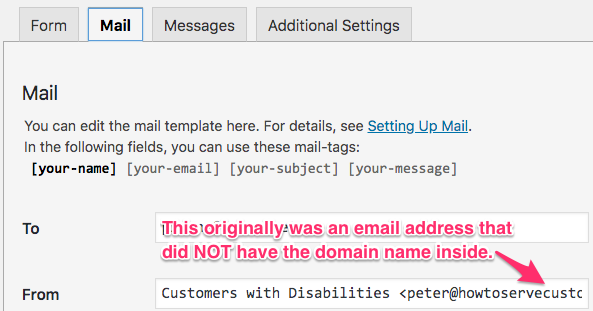 e. I had to do lots of troubleshooting to get my forms to send. Eventually, I found out that the email address in the From section under the Mail tab had to have form's website domain name in it.
My form was in howtoservecustomerswithdisabilities.com. I solved my problem by having this email address in the From box: peter@howtoservecustomerswithdisabilities.com.
With my web host, I had set up an email forwarding from that address to my regular email address.
5.

Set up Contact Received messages
When you click on the Messages tab, you see a list of messages you will see in various situations. The default messages are things such as
Thank you for your message. It has been sent.
One or more fields have an error. Please check and try again.
This field is required.
This telephone number is invalid.
If you want any of these changed, do so and click the blue Save button.
Test your form
Test your form immediately. If you do not get a test email, go to the Contact Form7 website and get a solution.
Related pages
Troubleshooting Contact Form 7
Fixing Contact Form 7